Virtual Dissection Table : Anatomage
The Anatomage Table is the most technologically advanced anatomy visualization system for anatomy education and is being adopted by many of the world's leading medical schools and institutions.
It has been featured in the TEDTalks Conference, PBS, Fuji TV, and numerous journals for its innovative approach to anatomy presentation. The operating table form factor combined with Anatomage's renowned radiology software and clinical content separates the Anatomage Table from any other imaging system on the market.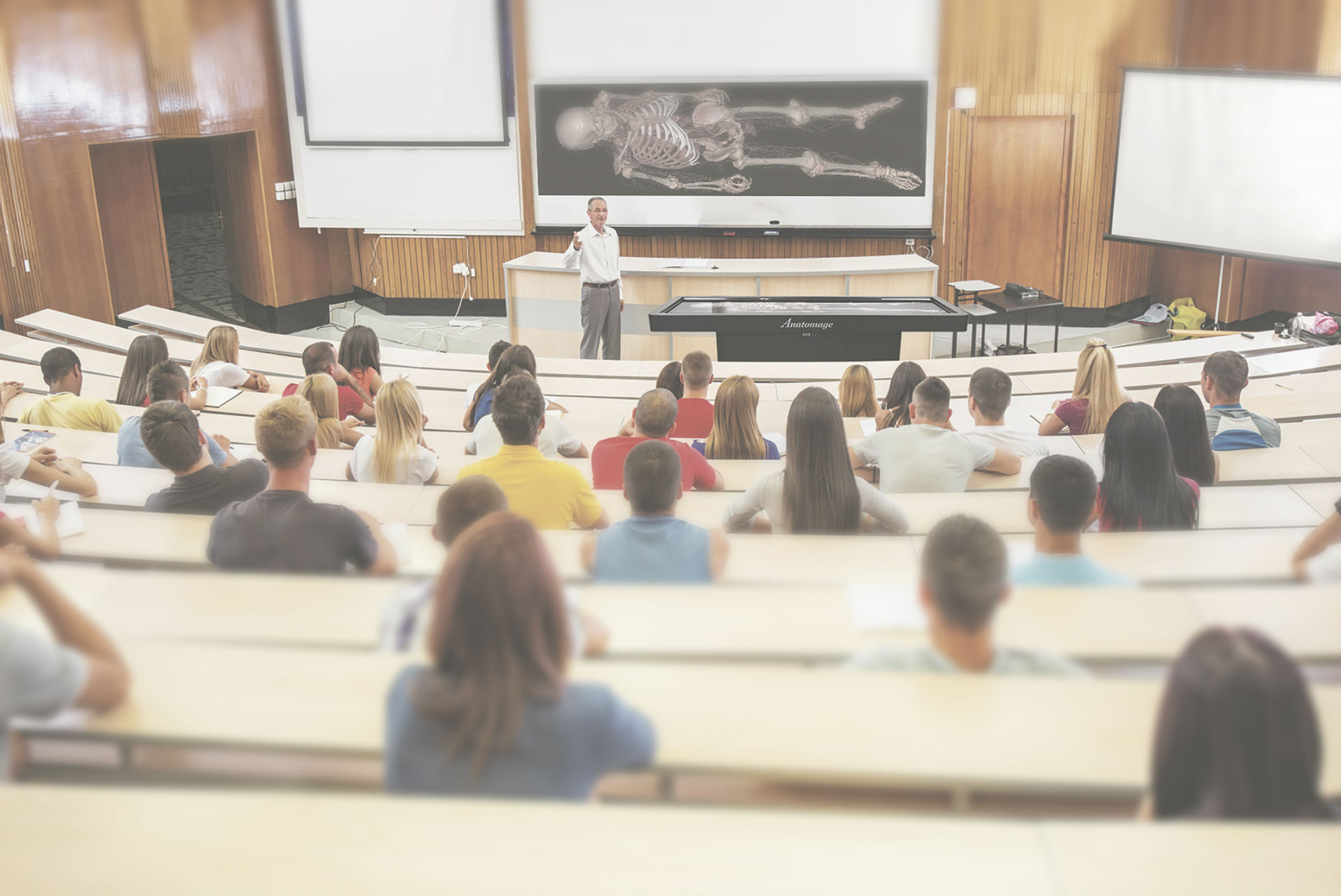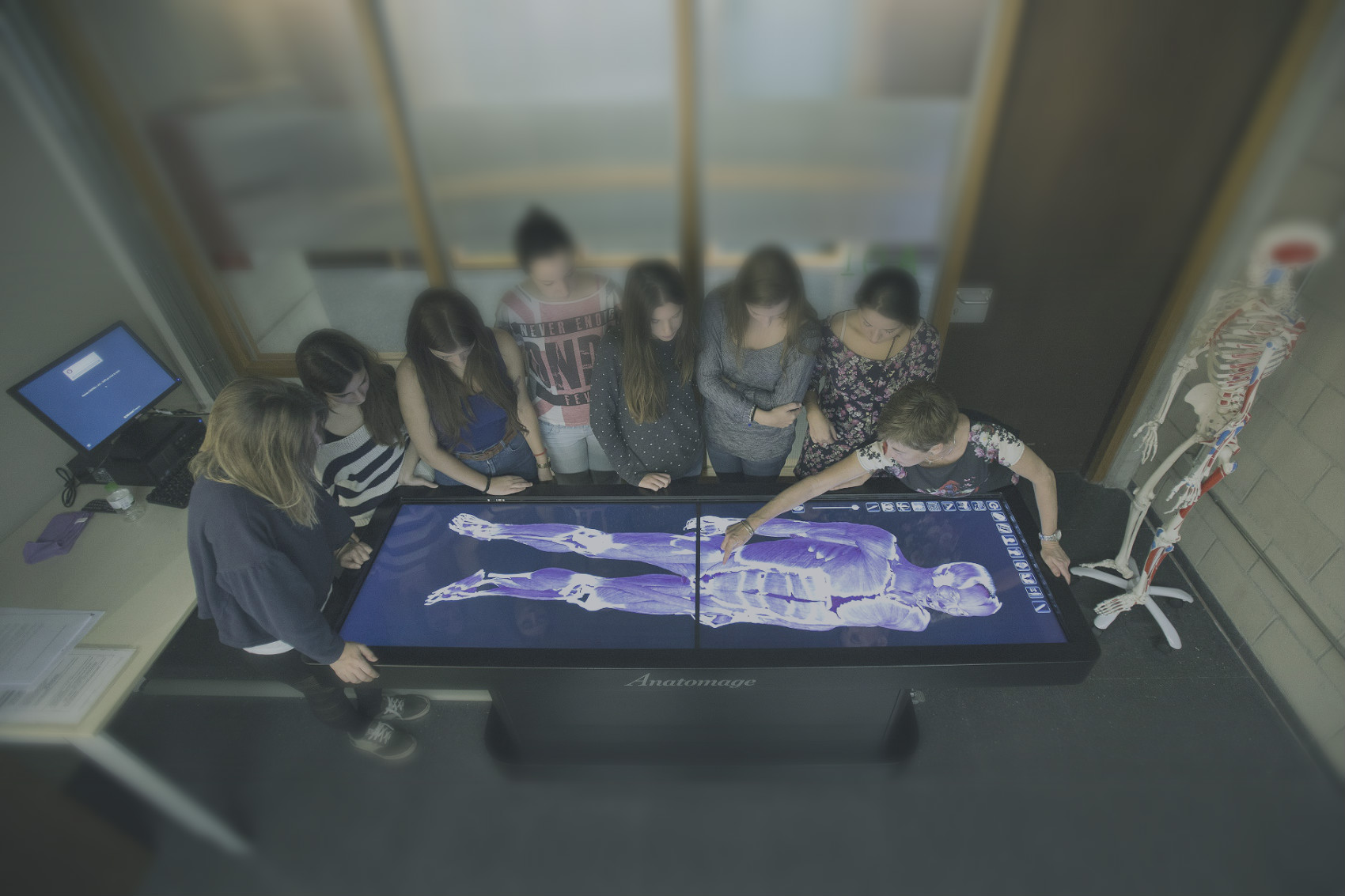 Highly Accurate Real Anatomy
The Anatomage Table is the only fully segmented real human 3D anatomy system. Users can visualize anatomy exactly as they would on a fresh cadaver. Individual structures are reconstructed in accurate 3D, resulting in an unprecedented level of real accurate anatomy, dissectiblein 3D. The Table allows for exploration and learning of human anatomy beyond what any cadaver could offer.
Medical
The Anatomage Digital Library contains a plethora of human anatomay cases, including detailed regional scans, and interesting medical pathology cases. Take a look at a few samples below.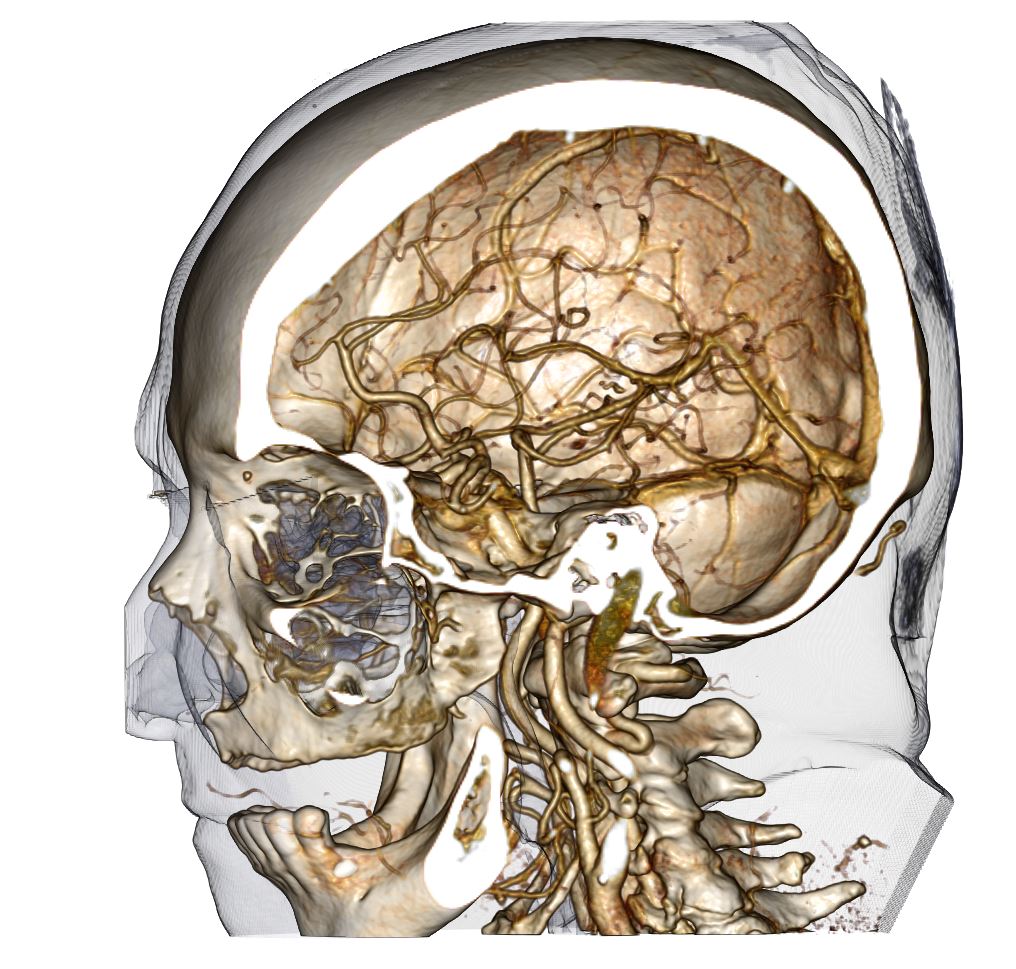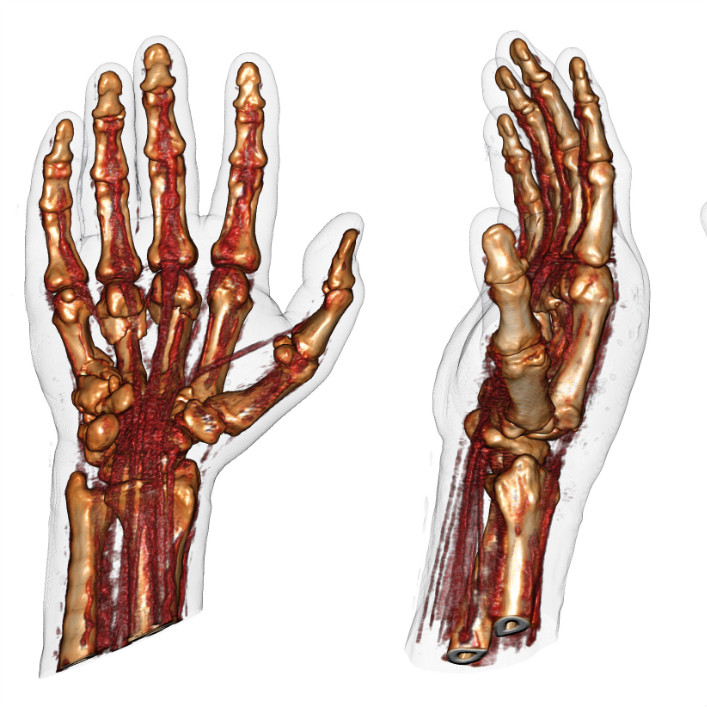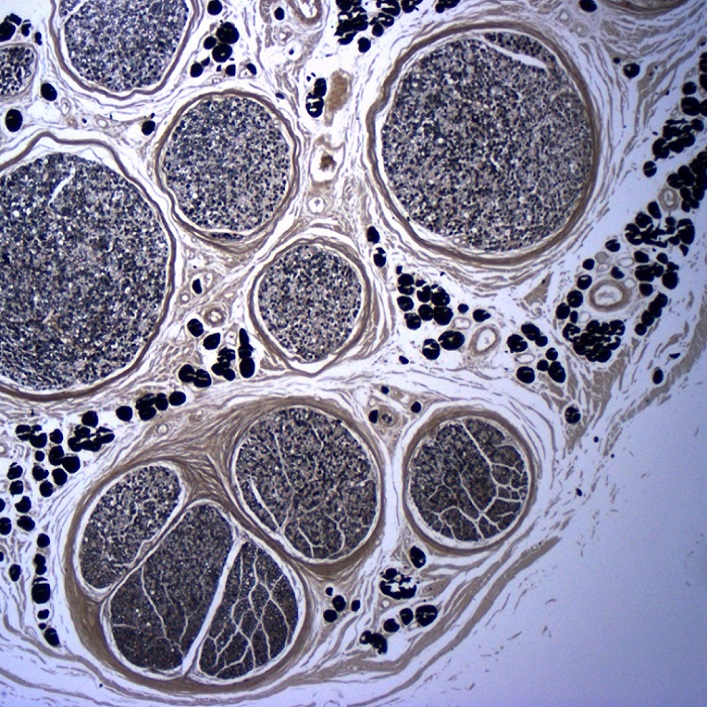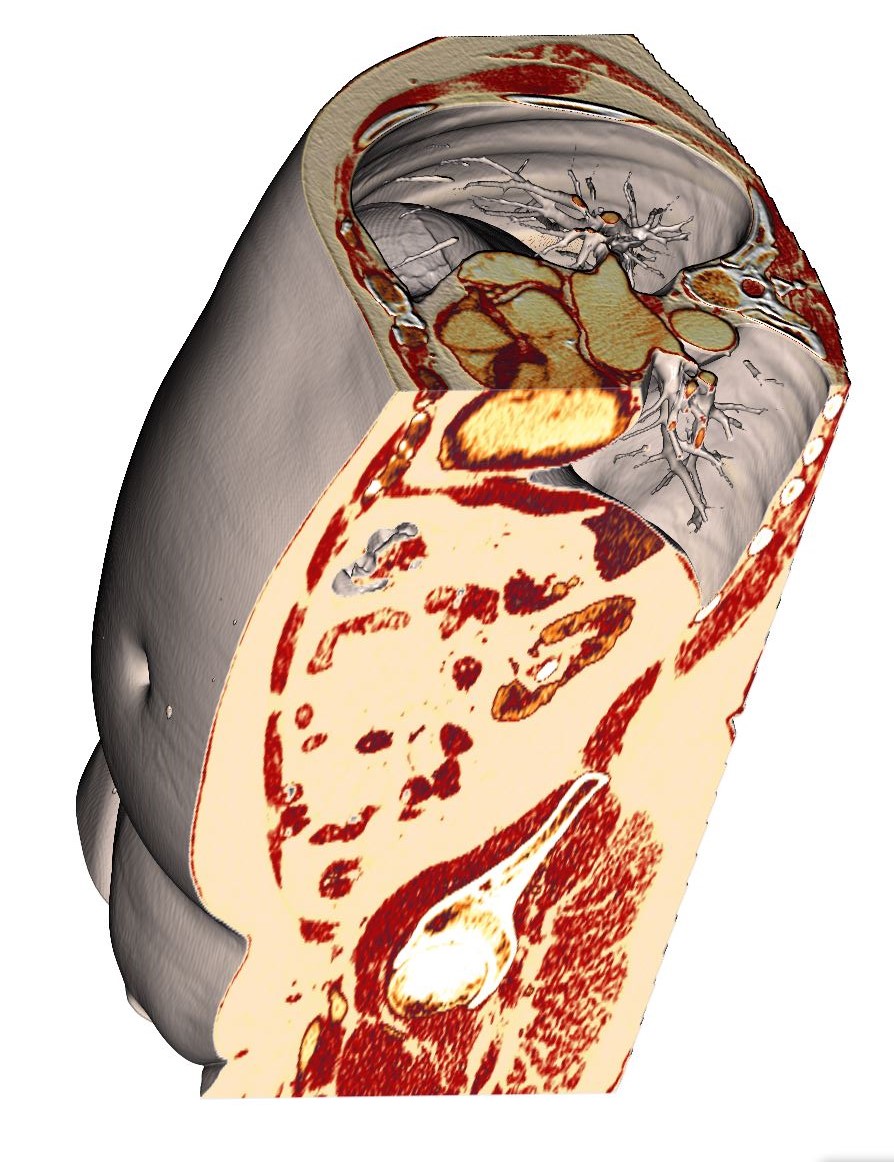 Veterinary
The Anatomage Digital Library also contains a variety of interesting animal anatomy cases, including detailed cross sectional scans, and full body scans. Take a look at a few samples below.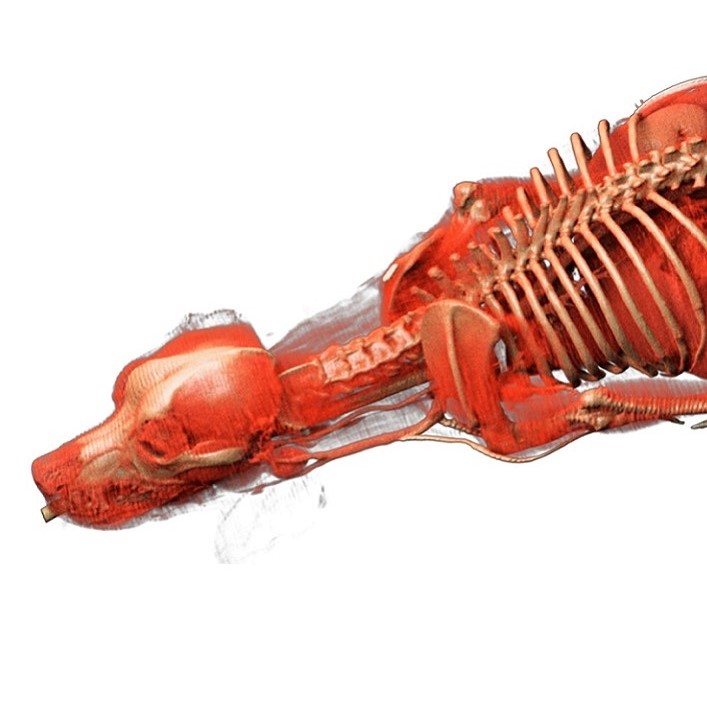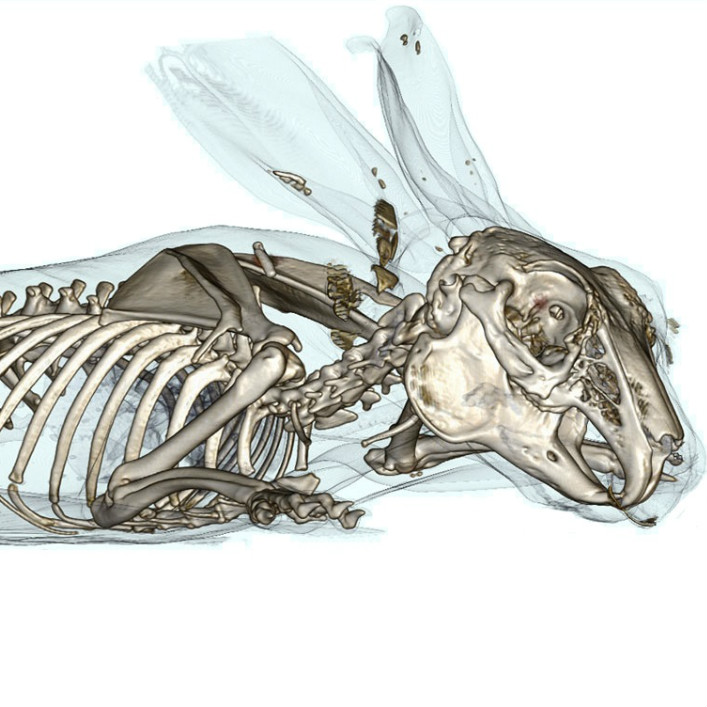 Powerful Effective Education Tools
The Anatomage Table based education is proven to be effective. Growing publications show improved test scores, more efficient class and lab sessions, and student acceptance. The Table allow students to interact with young and well preserved digital cadavers instead of aged and degenerated bodies. The accurate details and rich content draw students' interest and attention leading to more effective educational outcomes.
Enhance Your Institution Standard
The Anatomage Table is the advanced technology available for your institution. Students, parents, alumni, or visitors will be impressed with the presence and visual impact of the Table. There are no chemicals, no unpleasant smell, no recurring facility costs, no regulations and a higher student adoption rate over traditional cadavers. This system could set your institution as the technology leader in your community.
Rich and Unique Content
Anatomage offers 4 gross anatomy cases, more than 20 high resolution regional anatomy cases, and more than 1000 pathological examples, including animal cases. These are high resolution and high quality cases are unique to Anatomage. Thousands of structures are meticulously segmented from photographic images to deliver the most accurate real 3D anatomy. Even individual vascular structures are meticulously traced to be accurate. All this is made possible by Anatomage's unique technology and years of painstaking segmentation work. These features cannot be copied overnight and we are proud to say that we are the only ones that offer such content.
Interactive Segmentation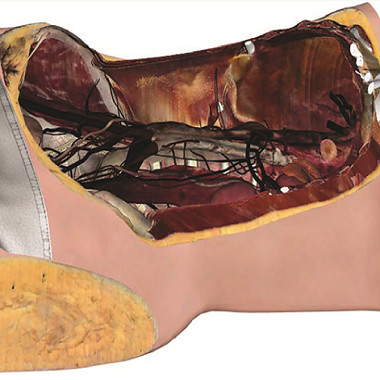 Full Annotations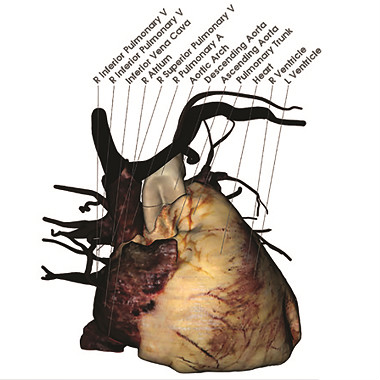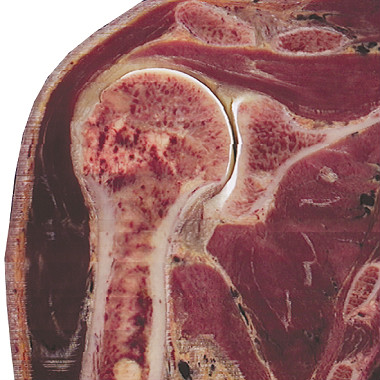 D2P : From Dicom To Print
D2P minimizes the need for technical expertise and eases the adoption of printing technologies by the healthcare community
D2P is a stand-alone modular software package that is designed to address and consolidate all 3D model preparation steps. It relies on automatic segmentation tools that minimize the effort and time associated with the creation of a digital patient-specific model.
The software is intended to be used by medical staff for preoperative surgical planning and allows for the export of 3D digital models in various file formats that can be used by numerous applications.
See the product brochure here
Benefits:

One creation suite to support all model preparation steps
Ideal for pre-operative surgical planning and patient consent
Create 3D model in minutes using automatic segmentation tools
Supports various imaging modalities (CT, MR, CBCT)
Results are overlaid on patient scan to ensure precision
Intuitive editing tools including auto model coloration
Instant transfer of 3D files to various applications such as 3D printers and VR
Enhanced 3D visualization and complete freedom of model control in VR
Supports various 3D file formats and 3D printers
Easy control of data management
Lap Mentor
The gold standard of laparoscopic training solutions for learners of all levels and across all disciplines
Pelvitrainer eoSim
Trainees: learn advanced suturing techniques with the top of the range SurgTrac Elite take-home simulator, with access to the Core, Advanced and Elite skills curricula.
Includes everything you need to take your skills training to the highest level:
SurgTrac:
Single user licence (valid for 12 months) for access to our new SurgTrac software and the 6-module SurgTrac Elite Curriculum (in addition to the Core & Advanced curricula).
Complete the SurgTrac Elite curriculum via distance learning, and receive remote assessment & feedback from our faculty.
Follow your skills progression via your personal online profile.
See the fastest times for each module via the Top Scalpel leaderboard.
eoSim:
6 laparoscopic instruments: a pair of needle holders, ratcheted grasper, non-ratcheted grasper, scissors, & knot pusher (to make reusable endoloops).
3 practice models and all required disposables, including a box of sutures: Peg-board (with thread), three-clip board (with suture pad) & four-clip board.
High Definition 1080p USB plug-and-play webcam built in.
LED light strip built in to provide optimal illumination.
No assembly required.
Technical requirements:
Operating system: Mac OS 10.10 & Windows 7 onwards.
Optimal hardware spec: Intel Core i5 processor & 4GB RAM
Lap Tab Trainer
Technology meets simplicity with the fold-up trainer that works with your iPad*, iPhone*, tablet, or smartphone. Ideal for residents and sales demonstrations.
The Lap Tab trainer™ with Side Ports is ideal for residents to take home and practice. Being our most portable trainer yet, the Lap Tab trainer™ with Side Ports is small enough to fit into a backpack and is simple to set up. *iPad and iPhone are registered trademarks of Apple Inc.
Camera: Tablet or phone must have a camera.
Ports: 4 Ports with replaceable grommets.
Grommets: 5 and 10mm interchangeable grommets.
Pelvic Box: New fold-up design.
Lights: Open design allows natural light to illuminate work area.
No electricity required.
Monitor: Tablet or phone works as monitor. (not included)  Can connect phone to large monitor or projector.
Dimensions: L 18″ x W 12″ x H 2.5″ (L 46cm x W 30.5cm x H 6.5cm)
Weight: 5 lbs. (2.5 kgs.)
P.O.P : Pulsating Organ Perfusion
Pulsating organ perfusion was developed for the simulation of operations in minimally invasive surgical techniques. It opens up new perspectives in laparoscopy/thoracoscopy and endourological training.
Operations can be carried out under the most realistic of conditions on animal organs or organ complexes with the P.O.P simulation trainer:
abdominal surgery (liver, gallbladder, small intestine, colon, spleen etc.)
thoracic surgery (heart, lungs, aorta)
urological surgery (kidney, ureter, adrenal)
vascular surgery (aorta, arteries, veins) and
gynecological surgery (adnexae, cysts etc.)
Learning of standard operations
P.O.P simulates all types of hemorrhages (parenchymatous, capillary, arterial, and venous), making it not only possible to learn standard operations, but also to master hemorrhagic complications.
Control of complications
In contrast to animal experiments, the exercises can be repeated as often as necessary and practically without time limitations.
Learning of new techniques
Furthermore, P.O.P is also highly suitable for experimenting with new techniques allowing for results to be checked immediately.
Unlimited in time and repeatable
All technologies familiar from clinical work such as high frequency (unipolar, bipolar), lasers, ultrasound dissectors, aqua dissectors etc., can be used in the P.O.P simulation trainer.
Functional Principle of the P.O.P Trainer
The central artery of animal organs or organ complexes is catheterized and connected to the pump of the P.O.P simulation trainer. The perfusion medium (colored tap water) in the pelvi-trainer is conveyed into the organ by the pump. The pump works with an electronically controlled frequency of approximately 65 / min and is pressure-controlled (maximum pressure approximately 140 mmHg). The organs are supported on a perforated metal grid. The perfusion fluid passes back into the simulation trainer via side branches of the arteries, veins and parenchymal lesions.
Organ / porcine specimen (deep-frozen on dry ice, OR in formol-like conservative solution)
Heart/Lung Complex
Liver/Gallbladder Complex
Kidney Complex
Kidney Complex With Stones within the Renal Pelvis
Small Intestine
Stomach Complex
Bladder with Urethra
TurpSim
Coming soon.
Do not hesitate to contact us in the meantime.
Robotix
The RobotiX Mentor is a comprehensive educational solution suitable for surgeons of all levels of expertise to efficiently and effectively practice the skills required to perform robotic surgery.
URO Mentor
Changing the Face of Endourology Training
Simbionix's URO Mentor medical simulator provides the most comprehensive endourology hands-on training and practice opportunities for diagnostic and therapeutic procedures.
The URO Mentor provides a unique opportunity to work with a variety of scopes, tools and visual images on a true to life system providing a look and feel so close to reality, that at times it may be hard to distinguish the difference.
Introduction to the use of endourology scopes and tools is done by working on coordination skills and essential tasks for the review of anatomies, followed by the practice of actual procedures on a variety of virtual patient cases, each with its own unique anatomy and pathologies.
Safe practice of endourology procedures on the URO Mentor includes:
Simulation of rigid and flexible cystoscopes and ureteroscopes
Practice essential skills, stone extraction, stone lithotripsy, cutting strictures or taking biopsies
Real-time simulation of fluoroscopy and C-arm control
An ergonomic platform provides use of actual scope with a real tool handle and enables actual tool insertion into working channels
Percutaneous Renal Catheterization
PERC Mentor
Meeting the Training Needs of Radiology and Urology Specialists
The PERC Mentor™ is a medical simulator for training percutaneous access procedures performed under real-time fluoroscopy.
The PERC Mentor™ simulator provides healthcare specialists with opportunities for training and practicing basic tasks and skills on a variety of virtual patients.
Simbionix PERC Mentor™ helps specialists acquire the following skills:
Hand-eye coordination

Processing of 2D fluoroscopic radiographic imaging into
3D "mind's eye" visualization of anatomies
Fluoroscopy image manipulation
Tools and guide wire manipulation
C-arm manipulation for obtaining ideal access
Use of needles of varying sizes and lengths
Sutures & Anastomoses URO
Microvessel 2mm
Coming soon.
Do not hesitate to contact us in the meantime.
Ureter
Product Includes:
The  ureter model includes a 6″ vein with 5 mm ID and 7 mm OD for the anastomosis to the bladder.
Product Specifications:
| | |
| --- | --- |
| 1 Ureter | |
| ID | 5 mm |
| OD | 7 mm |
| Wall Thickness | 1 mm |
| Length | 6 inches |
Bladder tissue
The  Bladder Tissue was created to mimic human bladder tissue while suturing and behaving like real tissue. This product is ideal for anastomosis training with a urethra or ureter and the tissue can be secured with 3-Dmed Vesico-Ureter/Urethra Holder.
Product Specifications:
One Sheet of Bladder Tissue
Length
6 inches
Width
5 inches
Thickness
2.2 mm
Urethra
Urethra (wet) replacement piece for the Vesico-Urethra Anastomosis Model. 6″, 6 mm ID and 7 mm OD.
Uro holder
Our Vesico-Urethral Anastomosis Kits is designed to practice resection of the urethra to the bladder. The metal clamp allows for the adjustment or replacement of the bladder.
Tissue mounting pad
These pads allows you to pin down anatomical models for an end to end or end to side anastomosis.  They secure the tissue for training and can be placed in a box to simulate "deep inside the body" vascular anastomosis procedures.